Amanda at Teaching Maddeness is hosting a great linky party for new school year resolutions. I always start of the year with so many so maybe it will help to have y'all keep me on track.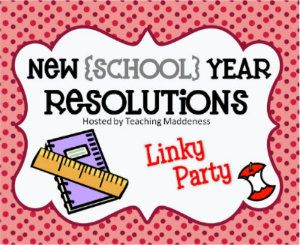 (1) Stay organized.
This is my #1 resolution every year and somehow I still don't manage to do it. I want to keep my table clean, papers filed, and materials where they need to be. I've moved into a new classroom so I am trying to get myself organized before school starts. I also want to teach my kiddos to be more organized so it's less on me.
(2) Stay positive. See the joy in every day.
Last year was a rough year but it didn't help that I didn't have the best attitude about certain things. This year, I want keep my positive attitude by focusing on the joy in every day.
(3) Differentiate.
I always have a hard time maintaining differentiation in my classroom. I know that this really helps the kids but I just often don't have the time or energy to make it happen. Anyone have any good tips for this one?
(4) Get things done at school.
You should see me everyday after school. I'm always lugging a bunch of stuff home. But guess what I did when I got home? Nothing. I don't need to be a pack mule.
So that's it. What do you think?
I was going to leave you with some pictures of my new classroom but they all turned out blurry. Teachers go back to school in my district next week so I will have some for you soon.