When I taught first grade, I had a dedicated space in my classroom for my pocket chart listing classroom jobs. My second grade classroom, unfortunately, didn't have as many bulletin boards so I had to improvise. I have an Activboard in my classroom so I decided to use it to post classroom jobs. Every morning my students make their lunch choices on the Activboard.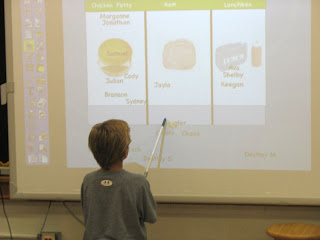 On Mondays, I list the classroom jobs and they are responsible for remembering their job for the rest of the week. I just drag their names over to their jobs and that's all it takes.
This is a screen shot of my Activboard template.
Read more posts about classroom jobs at the linky party found at Mrs. Dillard's First Grade .