Before I begin this post, I want to say that my thoughts and prayers are with those of you in the north who are suffering from the effects of Hurricane Sandy. I just can't get over the images of New York City on the news. God bless you!
Happy Halloween everyone! Congratulations on surviving the school day! Halloween in the middle of the week is probably every teacher's nightmare.
We've been working on some crafts over the past week or so and I finally changed my front bulletin board.
I just added the crafts to my tree so I didn't have to take it down. I'm trying to think of a good way to decorate it for Christmas so I don't have to take it down again.
Today we had a visit from the Candy Corn bandit. The kids had so much fun but they about wore me out trying to figure out who the Candy Corn bandit really is. You always have those kids who think through everything and I knew one of them would ask me how I would have these papers ready if I didn't know about it. But they ended up believing my story that the Candy Corn bandit must have left all of the papers too. One of my boys even said that the candy corn bandit stole our candy so we could have something fun to do. Haha!
We also made inferences using The Little Old Lady Who Wasn't Afraid of Anything. The kids really liked this activity and especially reading the book.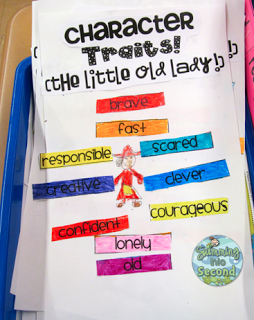 We are also working on possessive nouns this week which I think is incredibly hard skill for 2nd graders. Since it's fairly boring, I tried to jazz it up a bit. I drew Frankenstein on a piece of chart paper then we brainstormed as a class all the things that Frankenstein could have or own. I told the kids that they could include things that they made up so that's why McDonald's and sunglasses are on the chart.
After we made this chart yesterday, we used it to write about Frankenstein using the writing paper found in Amy Lemon's Halloween unit.

These are some of my favorites: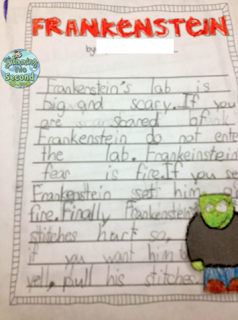 I hope you have a great Halloween night! Only 2 more days of school!