Hello friends! I was contacted by The Pencil Grip Inc. to try out a set of their pencil grips. Each set has three pencil grips that you can use to help your studens correct their grip.
The green grip is the Crossover grip. This is what students use first. Then, they transition to the Pinch Grip (red) and finish with the Original Grip (blue).
My biggest problem with correcting pencil grip is trying to fix at least two years of incorrect grip by 2nd grade. However, it is extremely important. Did you know correcting and child's pencil grip and, hopefully, improving his handwriting can lead to improved reading fluency and comprehension? Automaticity is so important because it frees their brains up to learn so much more.
These grips have really helped me address grip problems in my classroom. This year, thankfully, I only have two students who need extra help with their grip. However, all my students thought these grips were so cool that they wanted to try them out.
This chart that came with the Grips was really helpful for me. I started both my kiddos off with the crossover grip. I have noticed an improvement in their handwriting using the grip. I hope to move them onto the Pinch Grip soon.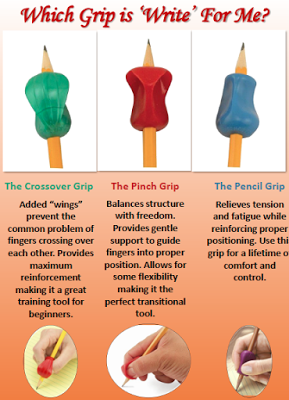 Check out more information about The Pencil Grip
here
.
So are you intrigued now? I'm giving away a set of three grips from The Pencil Grip Inc. You can enter to win below. You can win extra chances to win by sharing an image on Facebook, Twitter, or Instagram showing why you need the Pencil Grips in your classroom. (Be sure to exclude student names.) Tag me in the photo @swimmingintosecond and use the #pencilgripgiveaway.
Good luck!