It's Back to School time! My favorite part of back to school are the new books that I get to share with my class. There are so many good books to welcome your class, teach expectations, and begin the year on the right foot.
(1) All Are Welcome by Alexandra Penfold and Suzanne Kaufman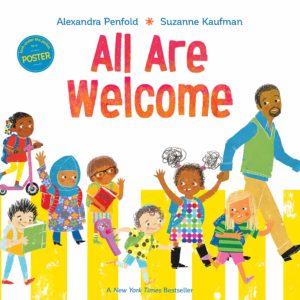 This is the perfect book to welcome all students and families to your classroom. Many different family types are included in this book. I love that there students with disabilities and students of many different nationalities featured in this book. It is a wonderful message of welcoming and acceptance of all.
(2) The Day You Begin by Jacqueline Woodson
The message of this book is absolutely inspiring as children are encouraged to begin to tell their unique story to each other. The words and illustrations found in "The Day You Begin" are so beautiful. This is a great book for back to school to encourage students to be themselves. I think this book's message is great for older students too.
(3) School's First Day of School by Adam Rex
School is nervous about his first day of school but he grows to love being around the children in the school. Perfect for students who might be a little nervous to start the brand new school year. (I have some back to school activities to go with this book. Check them out here.)
(4) This is the Way We Go to School: A Book About Children Around the World by Edith Baer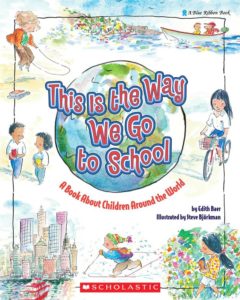 Kids are naturally curious about other places in the world. In this book, students can learn about how other students go to school around the world. It's great for pointing out similarities and differences and can lead to a great discussion of culture. (If your students love learning about differences in school around the world, check out my Travel the World: Let's Visit Schools pack.)
(5) Stand Tall, Molly Lou Melon by Patty Lovell
Up next is one of my all-time favorite books! Molly Lou Melon is a unique individual and she lets her personality shine through in whatever she does using the lessons that she's learned from her grandmother. In this book, Molly Lou stands up to the school bully and wins his respect for being uniquely herself. I love the message of how it's okay to be yourself and stand out in the crowd.
(6) Mae's First Day of School by Kate Berube
Mae is very nervous to go to school. On her first day of school when they arrive at school, Mae hides up in a tree. While she's there, she meets other people who are nervous about the first day too. This is wonderful for students to realize that other people are just as nervous about school as they are.
(7) The Smallest Girl in the Smallest Grade by Justin Roberts
Sometimes the smallest student can make the biggest difference. This is a great story about showing kindness and having a voice.
(8) The Invisible Boy by Trudy Ludwig
Finally, we've all had students that were very quiet and kept to themselves. In this book, the boy feels invisible to all the others. Until one day, something changes. This book is heartbreaking and touching at the same time. I highly recommend reading it to every class. It gives a different perspective that is often ignored by students and teachers alike.
I hope you've enjoyed reading about my favorite books for back to school. What are your favorites? Leave your ideas in the comments.
You can click on any of the images to head over to my back to school book list on Amazon.