Happy October! So glad that it's finally October. Fall Break (or 2 days off as it is around here) is next Monday and Tuesday. I'm really looking forward to that.
I'm here today to share some great products that I received from Carson-Dellosa to review. I've been a huge fan of Carson-Dellosa since I started teaching so I was excited to be asked to review some their products as a Brand Ambassador.
Let's start with the Learning Targets and Essential Questions pack. These are strips of the common core statements in an "I Can" format. I really liked that these strips fit perfectly in a pocket chart.
This is what the box looks like when you open it. I love that you can organize the strips with the easy to see dividers.
The "I Can" statement has the corresponding Essential Question on the back. I can see how this makes it easier to organize but I would also like to display both sometimes. These would probably be easy to copy so I could do that for those that I wanted both posted.
Check out this video to show why you should incorporate learning targets and essential questions in your classroom.

I have to admit that teaching writing is not my strong suit. I crave any writing resource that I can get my hands on because I need all the help I can get. This writing resource is great.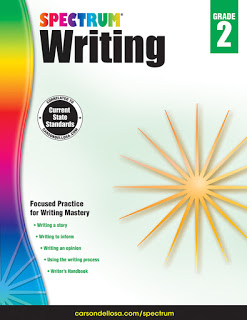 One of my favorite things about this workbook is the that it is laid out in lessons that build on one another. There are multiple days for each concept. However, this isn't really laid out in the writing genres that we need to teach – informational, opinion, and narrative. This workbook is laid out more to teach students how to build sentences and there are some great things for proofreading. Click on the image above to get some free downloads from the Spectrum book series.
Check out more information in the video below.
Up next, here are some great resources for review. I love these books for easy peasy homework or morning work. Best of all, you know you are hitting all the necessary skills you need for the Common Core standards.
I really like how the skills are laid out in a Monday through Friday format with a couple of focused skills each day. (Click on the images above to head over to the site. While there, you can download a free preview to get a closer look at the layout.) These pages could get really time consuming if they weren't broken down by day and the kids won't feel overwhelmed with having to do too much. I plan on introducing these into my homework packs after Fall Break.
Find more information in the video below.
Review Disclaimer: I participate in the Brand Ambassador Program for Carson-Dellosa and have received these products for free to review.