Hi everyone! I'm back today to share some of my favorite books to read for Thanksgiving. I found some freebies and activities to go with them.
(Amazon Affliate links included in this post)
Did you know that you can rent this book for free if you have Amazon Prime using the Kindle Lending Library? I love using the resource to borrow some free books.
These books go great with the free Scholastic virtual field trip for Thanksgiving. I love watching these videos every year and the kids always really love them.
I love "If You Sailed on the Mayflower in 1620." It lists questions that kids might have about the Mayflower and you can just pick and choose what to read. There's no need to read all the way through because it's a long book. "If You Were At the First Thanksgiving" is also great. It doesn't look like it's readily available right now but it's a good one if you can find it.
I love this series of books (Who Was.. and What Was…). These are so informative and easy for kids to read.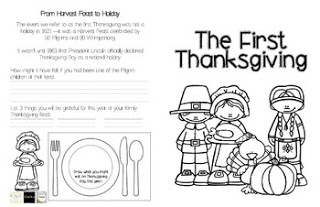 I love this freebie from Lory Evans to go along with the Scholastic videos.
Love "'Twas the Night Before Thanksgiving!" The kids always have fun with this one.
First Grade WOW

Have you seen this book? It's new to me but oh so cute. It's about two kids who try to escape the family on Thanksgiving to go outside. What kid doesn't dread all the family obligations at Thanksgiving? Best of all, this book is only $1.99 for the digital version right now.
This book is going to be paired with my Scholastic Science Spin for this month.

Happy reading!