Hi friends. Today I'm stopping by to share some resources from Carson-Dellosa. First up is their Summer Bridge Activities book. I reviewed the book for students entering third grade.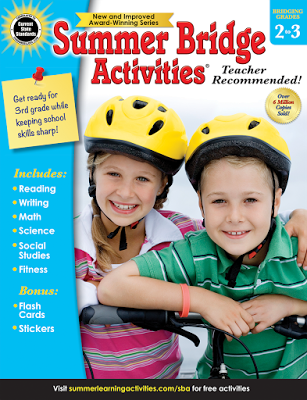 This is a great resource if you have your own kiddos at home who need
some summer review. This book pretty much covers everything. This book has 12 weeks worth of activities that can be completed in just 15 minutes a day. Definitely won't cramp your summer style! This book even includes flash cards, reward stickers, and a certificate of completion. I also liked that the book includes a recommended summer reading list for kiddos entering third grade. I know parents are often confused about books that their kids can read so this will really help.
Here's a quick video detailing the Summer Bridge books.
The next book that I want to introduce to you is "Ready to Go: Infographics." I'm slightly obsessed with infographics. I love looking at them and learning fast facts.
This book will be a classroom favorite for sure. I love that the pages in the book are write-on and easy to wipe-off. It's like ready made learning centers and would be a great independent activity for students who finish their work early or need an extra challenge.
Watch this video for more information.
Last, I reviewed Spectrum Word Problems. I chose this book because my students always have trouble with word problems so I'm always been looking for anything that will help.
The skills for 2nd grade include:
Real world applications
Multi-step word problems
Adding, subtracting, reading, and writing numbers up to 100
Measuring lengths and plotting graphs
Time and money
Recognizing and drawing shapes
One of my favorite things that I just noticed on the website is the standard correlations. This is a small screenshot of the pages that cover certain standards within the book. This makes planning so much easier and you can tell that they've really thought this out.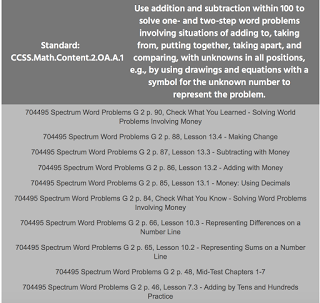 Hope you enjoy seeing these products from Carson-Dellosa! Have a great day!