The Pencil Grip, Inc. sent me a pack of neon Kwik Stix to try out. I loved the primary colored pack that I tried out last month but this pack was even better. I love bright colors and these were perfect! Look at these gorgeous colors.
So why use Kwik Stix? Here's a video showing them in use. So easy to use and not messy at all.

Here's a close up version of what they look like before painting. I had a hard time envisioning how these would work before I used them but no planning is really needed. Just open and paint! Perfect for those quick classroom projects.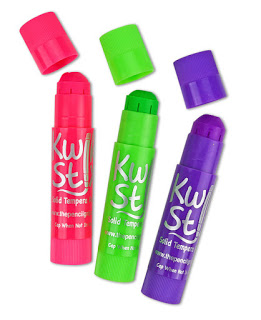 Best of all, the Pencil Grip, Inc. is allowing me to choose a person to win a 6 pack primary set and a 6 pack neon set.