(1) Use theme days. Kids love themes. I usually have the kids dress to match the theme. Some theme days that we have used are cowboy day, baseball day, and beach day.
(2) Learn about the ocean. There is so much to do with the ocean and the kids love learning about ocean animals. I love using my "Dive on In" pack and focusing on a different animal each day.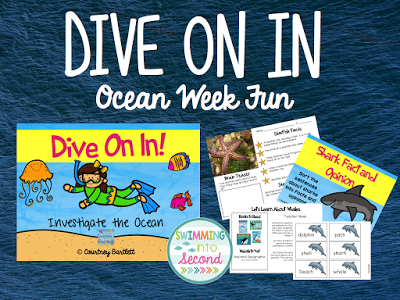 (3) Keep them busy. I love the free coloring books from Krista. I have some free word searches in my TPT store.
(4) Remember your year. Have your kiddos complete a memory book to remember all the fun that they had over the year. I like to show them photos from earlier in the year with things that they might have forgotten. In second grade, they are constantly saying, "Today is the best day ever!" So the closest "best day ever" to the end of the year is the only thing that they seem to remember.
Check out my memory books for 1st, 2nd, and 3rd grades by clicking on the images above.
(5) Search for in-school field trips. We've had our local children's science museum come to do science lessons (and these might be free if you are a Title 1 school). We also had the zoo come to do a program. The kids love it and it gives you a break.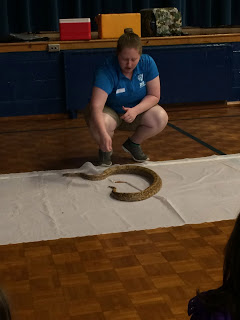 (6) Rotate classes. By this time of year, it can get hard to fill the day with fun activities and we all know how we need time away from some of our favorite students. So, get some of your team on board to rotate classes. In my team of five, I planned one activity to do five times with each class. It keeps the kiddos busy and keeps the planning time down.
(7) Appreciate others. I love to have my kiddos appreciate their classmates. Usually, we write letters to each other and share. This year, I ran out of time so we did appreciation posters. We rotated around and wrote kind adjectives on each students' paper and then we glued photos from the year on the back.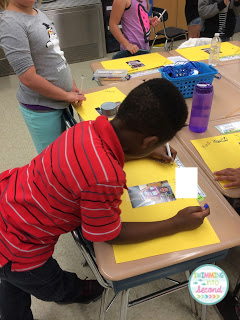 (8) Use stations and hands-on-learning. Get the kiddos up and moving. They are bound to be active at the end of the year so active learning is crucial to maintaining your sanity. I also love using GoNoodle. On a recent rainy day with no specials, GoNoodle was the only way that I could stay sane.
I love using my Common Core review centers at the end of the year. My Summer Loving centers are pretty popular too.
(9) Raffle. It's a great time to get rid of things that you didn't use all year. I lay everything out and let the students choose what they want. This also provides some incentive for good behavior because I let the kids with the most DOJO points choose first.
(10) Clean up! I like to get the kids involved in helping me clean up the
room. I let them sort the books in our classroom library to make sure
where they need to be. We use shaving cream to clean the desks. It's fun
for the kids and cleans the desks really well.