As a teacher, I'm sure you have your share of active learners. You know, those students who can't sit still, are always playing drums on their desk, and need constant stimulation. If you have these types of students (who doesn't), then Bouncy Bands are for you.
What are Bouncy Bands? Check out this video to see for yourself.
After using Bouncy Bands with my students, I've noticed a difference in their ability to stay on task. They can kick the bands or bounce around and the bands really don't disturb anyone.
Check out this data from students who have tried out Bouncy Bands. The students themselves have noticed a major difference in their focus.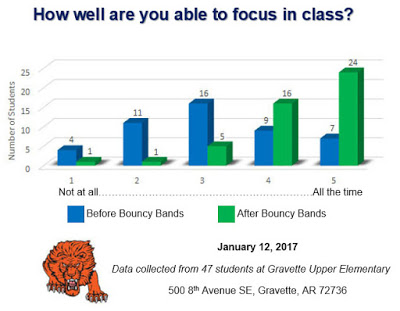 I used both of the Bouncy Bands below since I have some students who sit at desks and some that sit at tables. I personally love the desk version more because the kids can kick out further but the table ones work just as well.
Do you think you need Bouncy Bands in your classroom? Lots of teachers are using DonorsChoose or AdoptaClassroom to fund them. Check out some tips on getting funded in the video below.
I love DonorsChoose so I highly recommend using that site you teach in a public school. I've had great success getting my projects funded through them.
Check out this site if you are interested in funding
. There are some sample funding requests and videos to help you get the word out about what you need.
Disclaimer: I was sent a free sample of Bouncy Bands to try with my students. Opinions are my own.