It's February The shortest month with the most fun
content to teach. Here are some ideas for your for your February
plans for Black History Month. There are so many amazing African Americans to introduce to your students that I think it would be okay to extend these lessons past February.
I like using mini lessons to introduce content to my students. There are so many great books that introduce important people. I've put together a pack of some of my favorite books for Black History month.
Click on the image above to view on TPT.
I've created a free sample from the pack just for my blog readers. You can download it for free by clicking on the link below.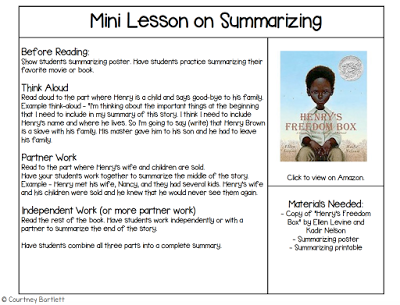 Epic has an amazing selection of books that you can read to your class. I counted 35 books with some videos and articles.
Click on the image above to head over to Epic.
My
students loved this Nearpod lesson on Martin Luther King, Jr. It
provides greats facts and would be easily accessible to younger students
with the guidance of the teacher.
Click on the picture to view.
This is a great freebie from the 24/7 Teacher. She provides passages on 4 different levels.
Click on the image to head to TPT.
Hope you can use some of these ideas! Share your great ideas in the comments.