I was contacted recently by the Pencil Grip Inc. to try out their brand new product, Thin Stix. I have used their Kwik Stix before and loved them. I was excited to try out the new arrival. We have had so much inside recess lately so I thought using the Thin Stix would be a fun new activity. My students were so excited to paint and I was excited about no having the usual painting mess.
All the kids wanted a turn with the Thin Stix and the Kwik Stix. I decided to use both to see the difference between the two products. The Thin Stix were great for the kids to use for small areas in their work and for writing.
The Kwik Stix are great for heavier coverage and making larger shapes. Best of all, the students can paint thick lines or use heavy coverage and the paint dries almost instantly. No mess at all. They were immediately able to put the papers in their mailbox to take home for the day.
I love not having to get out drying racks or lay papers all over the room. Also, we just used scrap computer paper and the paint does not soak through the page.
The Thin Stix were a huge hit with my kiddos. They want to use them at every inside recess now. I took a picture so you can compare the size of the Kwik Stix and the Thin Stix. The Kwik Stix are more like the shape of a glue stick and open just the same. You just roll it up and paint. The Thin Stix are great for little hands. The caps are larger and it rolls up from the bottom.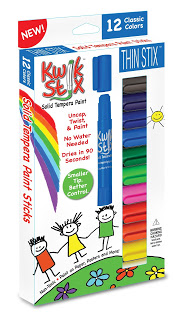 The Thin Stix come in a set of twelve colors. Best of all, you can grab this product on Amazon. I buy pretty much everything on Amazon so I love that these are available there. You will love using these with your own children or students. All of the Kwik Stix products are mess free and quick drying. If you are interested, click on the picture above or below to view these on Amazon.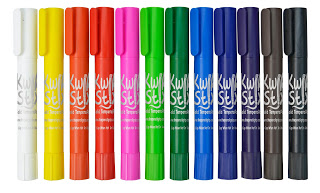 Best of all, I am giving away one pack of 12 Thin Stix to a lucky blog follower. Leave a comment below with your email address and I'll pick a winner on Sunday evening. (Giveaway open to US residents only.)
Happy painting!