I've been getting lots of questions lately about how I organize my reading block. Over the past few years, my district has moved to a new model for whole group and small group reading. I'm finally feeling very comfortable teaching this new model but it has been a shift for me. I've never really relied on the reading series and used more read alouds. However, this new model requires grade-level text in the students' hands every day. Hurdle help is provided for struggling readers to read the grade-level text but the main component is that text in the students' hands.
Here's what a typical whole group reading lesson looks like in my classroom. This may vary by the day because we spend a bit more time introducing the question of the week on Mondays. On Fridays, I usually do a read aloud following most of this format. My whole group reading time is approximately 30 minutes so we move quickly through most of the steps.
1. Review student writing response from the previous day using Seesaw.
I randomly select a student's writing response and open it through Seesaw. Each day, my students post their whole group quick writes on Seesaw and I can easily show them for feedback. My students provide feedback on the work using our whole group rubric.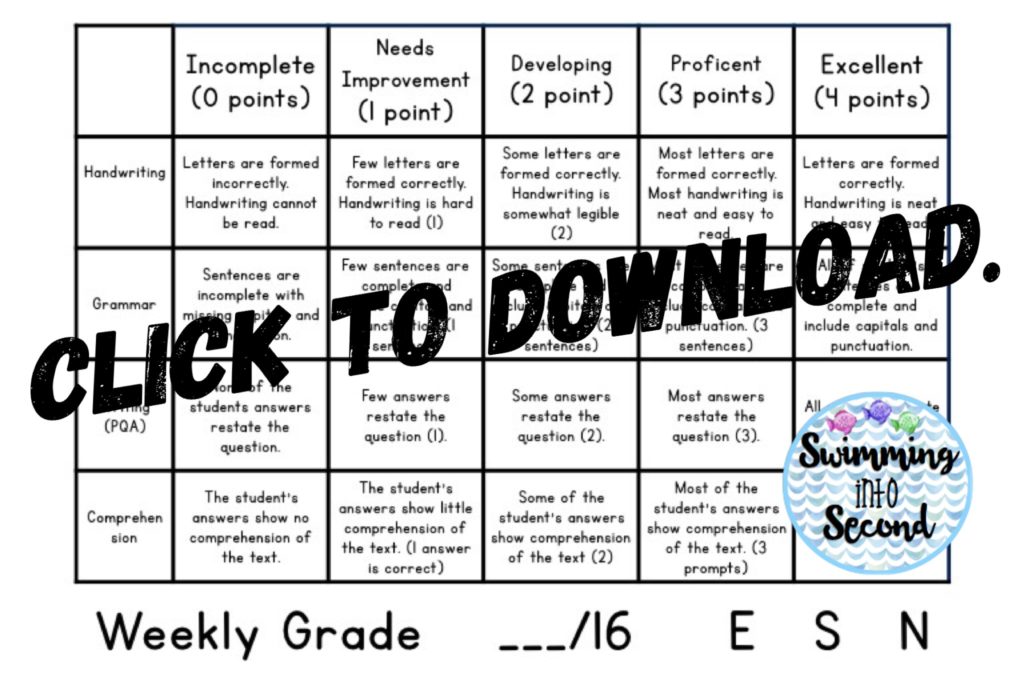 2. Review what was read the previous day.
For each text that we read, we break it into small chunks so it stretches over 2-3 days. This way, our whole group reading time is more manageable Each day, we review what we read the previous day so students remember what we are building on.
3. Vocabulary
Each day, we review the previous day's words with partner talk. I provide the students with a sentence frame such as A _____________ would startle me because __________. Students say these sentences to a partner and then I pick a few students to share their answers. I introduce two to three new vocabulary words each day using an image, example sentences, and discussion questions. At the end of the week, we use Yes, No, Why or have students identify synonyms or antonyms.
Here's an example for Yes, No, Why? using the word "startle." I would show the students the image and ask them, "Would the puppy startle me? Yes, no, why?" Students might respond, "No, the puppy would not startle you because it isn't scary."
If you are interested, I'll post more about our vocabulary routine in a later post.
4. Teacher Reads
When we move into our main text, I usually read the first page spread of the day to the students. Students are then exposed to some of the main text vocabulary and can hear a fluent reader read. After I read, I ask comprehension questions based on these pages within the text.
5. Provide hurdle help for students.
Using the pages that the students will read, pick out a few words that students may have trouble decoding or vocabulary words that they don't know.
Example:
Decoding: hopefully, squeaked
Vocabulary: repaid, deserves
I also pick out phrases that may be stumbling blocks for some students. I read these phrases to the students and the students repeat them. Then, we read them together.
Example:
hissed the snake
often repaid with evil
one creature who agrees
6. Students read a selection of the text.
After students read, I ask them questions based on what they just read.
7. Quick write
Based on what they read that day, the students have a quick write that they do independently during their reading rotation time. Before they are released to do the writing, they talk about the question with their partner. Then, we discuss the question as a class.(As the year progresses, students will write on a different question than they discuss to promote more independence.)
I have each of the week's quick writes made into a book so the students have their weekly quick writes for each day. At the end of the week, I take up the booklet and give them a grade using the rubric from above.
After whole group reading, I move into reading groups and I will share about those in another post.
Please leave me any questions or comments that you may have below and I'll get back to you. Thanks for stopping by!