June 3 – Repeat Day
Read a repetitive book like Silly Sally. Audrey Wood has great repetitive books for beginning readers. Even experienced readers may like the repetition in her books.
June 4 – Hug Your Cat Day
Nobody loves his cat like Mr. Putter loves Tabby. In the book, "Mr. Putter and Tabby Serve the Tea," Mr. Putter decides to pick a cat to keep him company. This entire series of books by Cynthia Rylant features sweet stories about Mr. Putter and Tabby.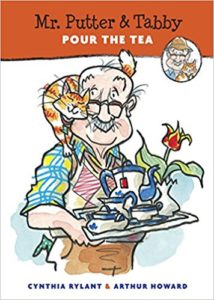 June 5 – Hot Air Balloon Day
Hot air balloons are incredible. Read "Hot Air: The Mostly True Story of the First Hot Air Balloon Ride."
June 6 – D-Day Anniversary
It's been 74 years since D-Day. This is a hard topic to teach kids but history is so important. I am a big fan of the "Who Was" biography series. The book, "What Was D-Day?" goes along with those books in teaching important moments in history in a kid friendly manner.
June 7 – National Chocolate Ice Cream Day
How can you beat National Chocolate Ice Cream Day? Even if you don't like chocolate, you can read "The Scoop on Ice Cream" to learn all about this summer treat.
June 8 – World Ocean Day
I love ocean books. In fact, I have two full tubs of ocean books so it is really hard for me to choose just one. Kids love books by National Geographic Kids and this ocean book has amazing photos that really draw their attention.
June 9 – Donald Duck Day
Since it is Donald Duck Day, why not read about ducks? I love the Read and Wonder books by Nicola Davies and this one is great.
I'll be back later this week with more of my June picks.
Click on the image to download the calendar. (Amazon affiliate links included.)
Check out some Pinterest ideas I found that go along with these books. Click on the image to follow my board.