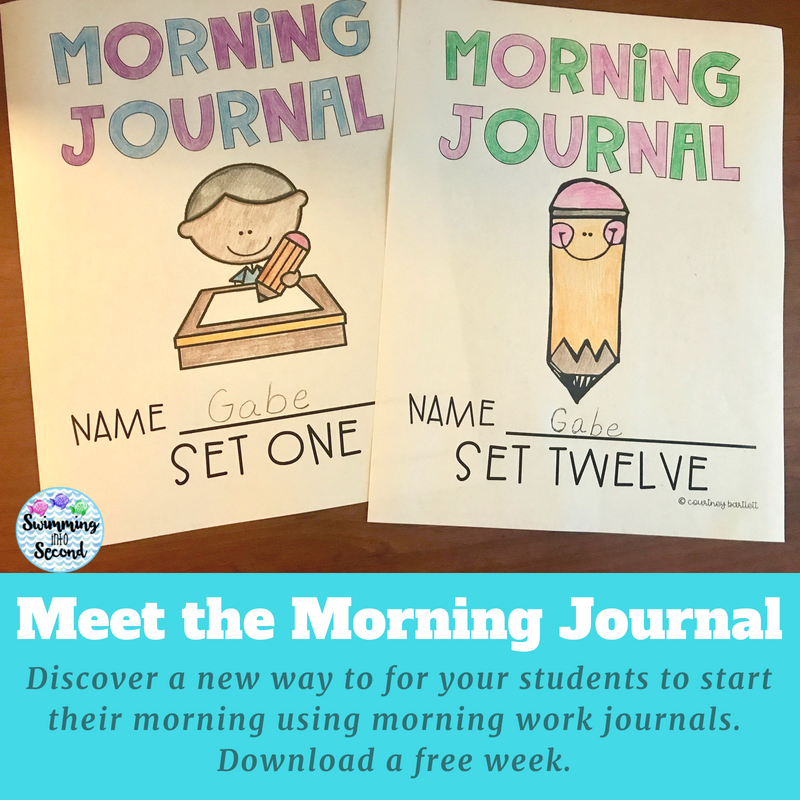 Start your school year off right with a morning journal with printable prompts and activities. One struggle that I was always having as a teacher is finding morning work that engages all my students and works on a variety of skills. I would constantly forget to find something for the next day and have to rush to be ready for my students in the morning. This search always left me feeling scattered and I'd have to spend so much time redirecting my students because they were not interested in the morning work. Plus the directions were always different which confused my students.
Enter my morning work journal with prompt and printables. I've included 2 different versions for you to use. I've used both with my class and it depended on my students which one I would use. It also depended on the school limit on paper.
The easiest version to use is the full morning journal.
Each day of the week has a different focus.
Monday is Mathematical Monday. Students will work through different math standards including fact families, counting coins, telling time, identifying shapes, drawing arrays.
Tuesday is Try it out Tuesday. On these days, students will work with grammar and phonics skills.
Wednesday is Wordy Wednesday. A new vocabulary word is introduced on these days and students must read about the word and use the word correctly.
Thursday is Thinking Thursday. Students will be given a question that makes them think and they must write to answer the question.
Friday is Fun Fact Friday. The students must read the fun fact and write to answer a question in a narrative or opinion format.
In the printable notebooks, I have included a bonus on Mondays, Tuesdays, and Wednesdays that helps students extend the concept even further.
Another way that you can use the morning printables is by printing out the prompts and having students glue them in a spiral or composition notebook. This is perfect if you have a limit on the paper that you can use at your school. Students would just glue the prompt in their notebook and go.
I love to copy the prompts on Astrobrights paper each day so it's easier for me to grade and it's easier for the students to know the days.
I'm organized this product in three ways so it's convenient for you. You can print all the daily prompts at one time so you can have all the Mondays on a certain color paper. I've also got the monthly prompts organized from Monday-Friday so you have them in order. Lastly, I have the monthly journals in 12 sets so you can print one for each month.
You can check out a free week of the morning journal on TPT. This is a great way to see if you like the set up and to see if it would work in your classroom.
Click on the image above to download a free sample. I've also placed this resource on sale through Tuesday, July 17th so grab a set before school begins.